Click on the logos to access these websites.




What to do DAILY at home...



EDpuzzle allows you to watch video homework assignments and answer interactive questions related to the lesson. You will receive immediate feedback on the result of the quiz upon completion of the quiz. If you have missed the questions, you will be able to rewatch the portion of the video for clarification before moving to the remainder of the lesson. Please take this video as a review after taking your notes from the PowerPoints on this website. You can view the homework assignments via the direct video link located under my class website or by logging into the EDpuzzle webiste on any browser. Also, you can download the IOS app from the App Store for Apple devices.
---
Quest is an online learning assessment tool that should be used as a daily review. The assignments are uploaded on the first day of the unit and are due the night before the exam at 10PM. There is no make up allowed on Quest assignments, however, one of the lowest Quest grade will be dropped at the end of semester. The key to Quest assignments will be posted after the deadline, should be used as a learning tool in reviewing for exam.
---
What to do if you need extra help in Chemistry...
Bozemanscience is maintained by Paul Anderson, a science teacher in Bozeman, MT. He has created hundred of science videos that have been viewed by millions of times by students and teachers around the world. All of these videos are accessible from this website.

---

Khan academy is a great source of tutorial if clarification is needed for any topic in chemistry. Please visit this page specific for Chemistry and search for the topics needed for your help. Khan Academy contains video lessons for all subjects.

---
Crashcourse videos are available on youtube.com for students to watch as a quick tutorial. These videos could be used as a great review tool before the exams to quickly reinforce the topics. Crashcourse videos are available for other subjects as well.

---




UC David ChemWiki has tons of wonderful sources on chemistry concepts. It can be used as a form of reference, or even a textbook! Use this to navigate to the concept you need help on.

---

Tutoring Availabillity

If you need extra help, please do not hesitate to do the following:

ask for help/tutoring in CLASS

come in during lunch for help

attend Saturday Academic School
Other websites used in class...
| | | |
| --- | --- | --- |
| We will use phET for virtual labs done in class. We may also use these simulations for make up labs. | | |
Powered by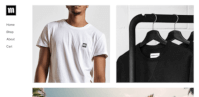 Create your own unique website with customizable templates.